What is the best way to create lifetime memories during your holiday in Portugal? By booking a photoshoot in Lisbon! Let me show you some of my favourite places in the city where I can take your pictures at the same time! I'll be happy to be your photographer in Lisbon during your vacation!
Travel photography in Lisbon
What are we going to do? Discover Lisbon's beautiful sights during a photo session!
Cost? A private photoshoot in Lisbon is available from €100,-.
Where? In Lisbon, the capital of Portugal.
Worth it? Yes! These amazing photos will provide a long-lasting memory of your vacation in Portugal!
Travel photography in Lisbon Portugal
Are you travelling to Lisbon soon? And are you the kind of person that likes to bring back a memorable souvenir? Book your photographer in Lisbon to capture your adventures during your trip!
This experience is excellent for solo travellers, families, and friends! No experience is needed, and more than suitable for the introverts amongst us! There is no need to be a fashion model! Depending on your wishes, we can find the ideal location for your session! You can book a family photo shoot, engagement shoot, couple shoot or a private shoot for just you! If you´re trying to choose between the best photographers for your situation, I hope you will like what I can offer.
Hello! My name is Marga. I'm a Dutch professional photographer living in Portugal. After my tourism degree, I worked as a flight attendant and travelled the world for eight years. During this time, I bought my first camera and got hooked! I´m now based in Lisbon after falling in love with the country. And I'd love to show you Lisbon during your travels! Let´s take a look at what you can expect.
Before the shoot: How does it work?
If you're looking for some forever moments in Lisbon, and you know when you'll be in the city, contact me (there is a also form at the bottom of this page) with your preferred date for the shoot! This way, we can settle on a time, duration, and preferred location and get ready to meet. Whether it's a romantic getaway, you travel alone, or with your kids, I'll capture you in a natural setting while showing you the entire city!
I will make you feel comfortable so you enjoy the session as much as possible. I will tell you more about the neighbourhoods, show you some famous sights, and give you an idea of other things to do, depending on your interest and lifestyle. I can even give you tips on where to eat, advice on things to do at night, or where to dance!
After the shoot: How does it work?
Afterwards, I go home and get ready to edit while you can explore and enjoy more travel inspiration. You can expect quality photos within 1 or 2 days after the shoot! You can pay on the day of the shoot or upfront. The price is per person or group (see details below).
Private portrait sessions are generally available in multiple locations around the seven hills. So we can think of a fun area if you want to visit Alfama, Bairro Alto, Belém or somewhere along the River Tagus! We can discuss this during the booking when you decide to hire me.
Depending on your journey, travel companions and tour group, I can fully accommodate a private photo shoot to your needs. Let's take a look at some of the options!
Family photoshoot in Lisbon
Every year, many families come to Lisbon on their holidays. Maybe it's your first holiday with your parent, brother, sister, partner or child. It will undoubtedly be a very special moment to capture! Over the years, I've specialised in parent shoots with small children and babies that travel the world. That means we can arrange the shoot in a convenient location (without going up the hills), and I can also give you some travel tips regarding travelling in Lisbon with your kids.
✓ Duration: 1,5 hours
✓ Location: Lisbon, Cascais or Sintra. Other places nearby are available on request
✓ Prices from € 150,00 per family
Private photoshoots in Lisbon for solo travellers
Are you travelling alone? No problem! Most photo shoots take place in Alfama (other locations are available), the oldest neighbourhood in the city. Alfama has a nearly 3000-year-long history, and we will cross a labyrinth of tiny streets and squares to discover the ancient roots of Lisbon.
And when the beautiful light hits the city, it will be fantastic to capture you in the neighbourhood with the Tagus River below you. Together, we can chat about locations, times, and your wishes.
✓ Duration: 1,5 hours
✓ Location: Lisbon, Cascais or Sintra town. Other places nearby are available on request.
✓ Prices from € 120,00 per person
I've captured many weddings since 2012. I photographed them all over Europe, actually. In Ireland, The Netherlands, Spain, Italy, France, and Germany! I love photographing couples, so if you have anything special to celebrate, let me be your professional photographer in Lisbon. I'm available for a relaxed photo shoot, an engagement shoot, and even weddings. Let's chat and find the best (and most romantic) location for you! This is perfect for a romantic getaway in Lisbon! As a local photographer, I know some fantastic spots to make your love story extra special!
✓ Duration: 1,5 hours
✓ Location: Lisbon, Cascais or Sintra. Other places nearby are available on request.
✓ Prices from € 150,00 per couple
Do you have something special to celebrate? Do you travel with a large group or have something specific in mind? Don´t hesitate to contact me to see if we can work out the details. For example, I can be available for a wedding or as an event photographer. Or I can take portraits of you during an excursion, like a sailing tour, or join you during your travels while taking your pictures. So while you discover the sights or sip on some Portuguese wine, I can create long-lasting memories of your trips. Although I work as a photographer in Lisbon, I´m available in different locations in Portugal on request.
Lindsey
"Book Marga as your vacation photographer! I got the pleasure to shoot with her twice, so I cannot recommend her enough! She knows all the best places to shoot and capture your visit to Portugal. The photos we received from her are ones that I will cherish forever. She captured the beautiful architecture and lighting in every spot we went to. She is very knowledgeable about Portugal, its history, and everything you need to see when visiting. She was also so calm and kind to our four-year-old. We all loved working with Marga!"
Dana
"I can't say enough how great this experience was, and I've done these types of photo shoots in many different countries. Marga is the absolute best. She does doggy photo shoots too, so I brought my dog with me, who I told her beforehand always tends to look quite grumpy. Not with Marga! She caught some of the sweetest smiles and greatest photos of the two of us and Rainbow alone. In fact, she took my all-time favourite photo of Rainbow (my dog), and I am going to print it! Marga delivered the photos within HOURS of finishing the shoot- I wasn't even home yet! But it's much more than that- it's her personality and spirit, and storytelling talent that brings Lisbon to life. It felt like a walking tour at the same time- I learned so much!! We ended up going over the time limit (by almost an hour)! But Marga never rushed and just wanted us to get great photos! I know there are a lot of photographers to choose from, but you won't regret going with Marga. It was a 10/10 experience. Book it! It's worth it!"
Felix & Jackie
"Marga sure made the best impression. She has been very friendly, flexible, considerate, responsive and approachable since the beginning. She made our family (including grandma and a 9-month-old baby) very comfortable and able to enjoy Lisbon from a different perspective. We are very boring posers in front of cameras, but she captured precious moments and natural expressions that we wouldn't have otherwise been able to see. We would highly recommend Marga if you are looking for a personalized shoot!"
Mo
"Marga was friendly and funny, easy to talk with. I could become friends with her instantly! And yet she didn't miss any instants to take wonderful photos. I am glad I found this experience while I was in Lisbon :)"
Rui
"Marga has reach experience in life and photography, super authentic and warm. If you want someone to take great photos in all the charming spots, share the Portuguese culture from a fresh perspective, inspire your life and elevate your trip, Marga is the go-to person in Lisbon and beyond!"
Amethyst
"Marga mixed our photo session with bits of history, trivia and laughter in between. She was prompt and had happy energies that helped shake off our jet lag on a cloudy day. She is very personable, and my kids were quick to be comfortable with her to the point they wanted to see her again the next day! We had our photo session in the afternoon, and she delivered the photos that same evening. All was good! A pleasant and memorable experience! You must book with Marga, and she'll send you home with lovely photos that you'll remember for life!"
Amy
"I booked the paparazzi tour with Marga, and it was such a fantastic experience! It's perfect for solo travellers (Marga is great company, and it's a cool way to meet other travellers) as well as for families and couples. Marga is a very chatty, open and considerate person, so even if you feel a bit anxious about posing for the photos, you will soon feel at ease and have fun. Another perk is that you get to see some beautiful places in the Alfama district you maybe wouldn't have discovered otherwise. So if you want to explore Lisbon with a local and get brilliant pictures of you on your trip - this is the Airbnb experience to book!"
Manuel
"Marga was great at customizing the experience to fit our needs. When she noticed we were traveling with small kids, she adapted the itinerary so it was more comfortable for the kids. The turnaround to receive the photos was really short. She was able to capture pretty cool moments for our family. I would definitely recommend booking this experience."
After the shoot, I'll go home to my computer. I'll make a selection of the best images and start editing them. My editing process is pretty simple. I don't use unflattering presets, but I do adjust the light, contract, crop etc. For a 1,5 hour shoot, you can expect around 50-100 quality images. It all depends a bit on the group size and if there are cute babies (I can't stop taking pics of their expressions!!)
All high res images (JPEG only, RAW files are not shared) are then uploaded to your private gallery. The pictures are usually ready for you within 1-2 days.
Prices for a photo shoot in Lisbon
Below is a short summary of prices. If you have any special wishes or questions, don't hesitate to contact me, and I'll happily create a personalised quote for you.
Tips for your photoshoot in Lisbon
The light during Golden Hour is just magical! I realise this is often a time to have dinner, but if you're flexible, let's meet 1,5 hours before the sun goes down! Are you not free late in the day? Let's meet earlier! The best times, especially in summer, are between 10-12 and 1,5 hours before the sun goes down. I avoid taking images in the middle of sunny days due to the contrasting light conditions. The area can also be busy with other tourists, so you might feel more comfortable if it's quiet. Saying that, though, I know plenty of quiet streets if you prefer so that you won't be surrounded by others!
There won't be any places to change privately, so outfit changes are not recommended. Also, I would recommend something other than high heels because the pavements are slippery and uneven. You can change a jacket or accessories easily between locations as long as you feel comfortable with your style! Lisbon's cobbled streets can be challenging, so good shoes are recommended!
Meet your photographer in Lisbon
Hi, I'm Marga! I'm the girl behind the camera!
Hey there! It's a pleasure to meet you! I haven't lived in the Netherlands for a while, but I grew up in the charming city of Leeuwarden! I've found my home in the beautiful neighbourhood of Alfama, right here in Lisbon. And let me tell you; it's the perfect place to capture those unforgettable portraits of people visiting this beautiful city! I started working as a professional wedding photographer in 2012 and began photographing people during their holidays in 2017.
Are you the kind of person who loves being in front of the camera? Or are you looking to create some memorable images during your holiday? Well, then, I'd love to join you on an adventure! I love photographing people! We can make it happen whether you prefer group shoots or private sessions! And hey, if you have any specific locations in mind, I'm all ears! We can explore different spots to find the perfect backdrop for your photos. I'll capture posed shots and spontaneous snapshots that genuinely reflect your unique personality.
So, are you ready to create some fantastic impressions together in Lisbon? Reach out to me to confirm your booking, and let's make it happen! I can't wait to meet you!
I am a spontaneous person who likes to talk, so I hope to make you as comfortable as possible! I believe that photos should show your personality and be as natural as possible, avoiding forced smiles and poses. I aim to take pictures that reflect the real you. If you like some posing tips, I can, of course, help! I'm a pretty introvert in front of the camera, so I can totally relate if you feel a little shy! Overall I try to mix poses and spontaneous images throughout the session. My editing style is natural, and I avoid presets, so your images are timeless!
Booking your session with me is super easy. All you need to do is get in touch! Please let me know your available date(s), a preferred location if you have one, and your travel situation. Do you travel alone, are you going to propose, or is it your honeymoon? Are you in Lisbon with your children, etcetera?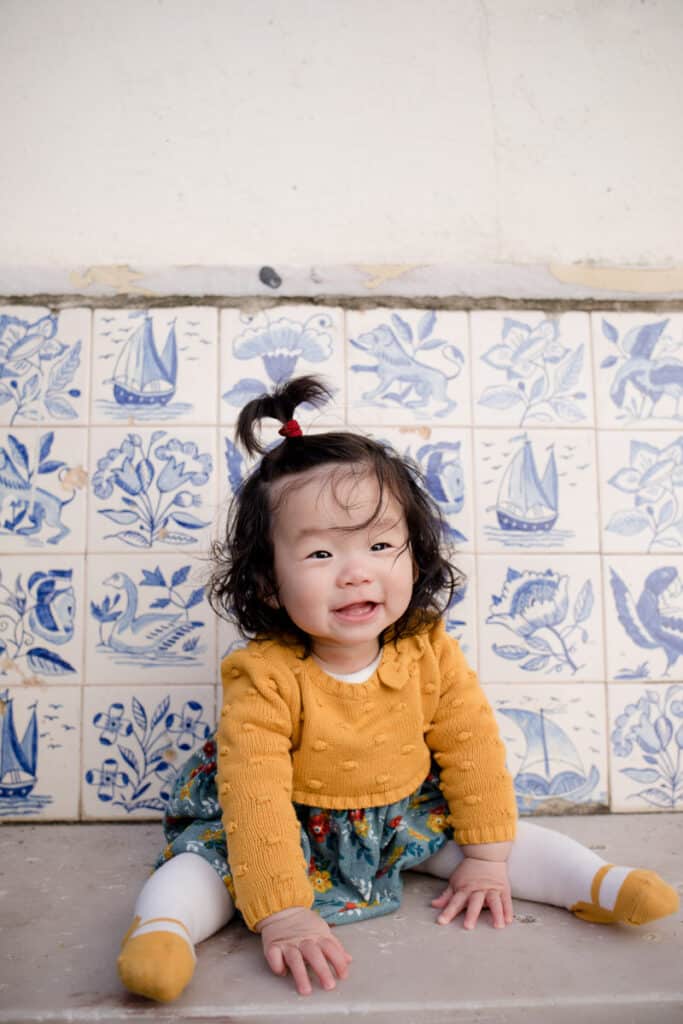 Are the photoshoots only available in Lisbon?
I'm available in Lisbon, Almada, Cascais and Sintra town. The rest of Greater Lisbon and Portugal is possible on request only.
Do you have a photography studio?
All sessions are outdoors, as I don't own a studio. If it happens to rain, we can reschedule, or you will get refunded if you have already completed your payment.
Usually within 1-2 days after the shoot.
I don't share RAW files with clients, but you'll receive all high-res images from the shoot.
Which languages do you speak?
I speak English, German, and Dutch. Portuguese is a work in progress!
How many images will I get?
You´ll receive a minimum of 50 images (often more!) for a 90-minute session. If your session is shorter or longer, you´ll receive less or more depending on the time spent together.
Do you work alone or with a team of photographers?
I work alone most of the time, but if you´re looking for a team of photographers for a special event, please get in touch.